We have all viewed grainy photographs of strength pioneers proudly pressing globed dumbbells overhead. These images have been engrained in our memories forever.
Introducing the Mike Bartos' Big Top Circus Dumbbell, no shot or sand in this work of art. Like all of Mike's products it meets the highest standards of precision, design, and quality manufacturing.
The Big Top Circus Dumbell is more than a paradigm-breaking, world-class piece of equipment … It is a feat of strength! We believe it honors our strength-minded ancestors as well.
Features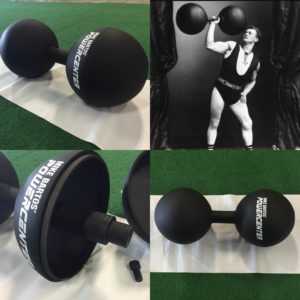 Empty weight- 139lbs
Empty with spacers in – 150lbs.
Length – 30.25″
Handle – 2.75″ OD