Mike Bartos' PowerCenter presents

Strength equipment designed to take on the world!
Our Supreme Series Plus line is scheduled to appear at professional and platinum-plus competitions across the world. Please follow the events put on by the wonderful people of Strongman Corporation to see it in action!
Supreme Series Plus Strongman Yoke 
The highest quality fabrication, design and materials have come together to create this beautifully crafted yoke. Although made of material that is fifty-percent thicker than other yokes on the market, our Supreme Series Plus yoke is designed to withstand the intense pounding of the world's strongest athletes. Just starting yoke training? The empty weight of 330 lbs. makes our yoke accessible for beginners.
Unmatched features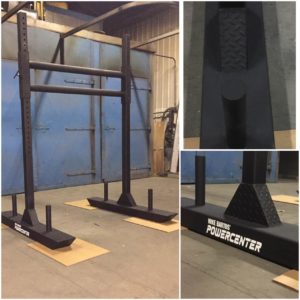 50% Thicker Material
Standard 53″ Crossmember
Double Crossmember Bar
Extra-Wide 4×8 Bases
Extra-Long 54″ Bases
Solid Steel loading Pins